Workshops are specialty classes that go beyond our regular classes & allow you to dive deeper into an area of your interest. YBD offers workshops each month with many different topics from Acro Yoga, Blindfold yoga, Sound Therapy, & even a New Years Eve Fire & Flow!
If you are looking for some plans this weekend join Paula in a playful AcroYoga Workshop or immerse yourself in Jenny's use of  Sound Healing to connect sound to your body's natural vibration.
***Space is limited, sign up in any studio or online***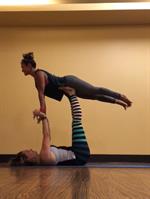 Acro Yoga is a form of body movement which playfully mixes yoga with the power of acrobatics and the therapeutic benefits of massage. Working with partners, you will develop better body awareness, as well as a deepened capacity to trust yourself and others in a safe and fun environment. This workshop will introduce you to the basics of Acro Yoga. It is accessible to all levels, and no partner is needed!
---
---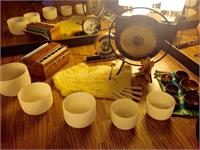 Immerse yourself in the healing sounds of the gong tuned to the planet Uranus and healing the Sacral Chakra, balancing emotions.The gong is one of the oldest musical instruments in the world. Based on ancient wisdom, the gong vibrates at the same frequency as the body allowing the body to heal itself. The gong balances the central nervous system and aids in deep meditation. Singing crystal and Tibetan bowls, harmonium, drums, and flute will be added to raise the vibration and heighten the experience. No yoga practice, all relaxation.